Name: Aerith "Rocketess"
Age: appears around 22 or 23 years of age ( is around 10 years old)
Ethnicity: Appears American
Race: Imaignary Friend
Allegiance: Neutral (but is mostly a good guy)
Origins: Imaginary Friend
Abbilities:
Flight:
Thanks to her rocketpack she has, she can fly through the sky at high flying speeds. It also allows her to dodge longe range attacks form the air with plenty of ease.
Hand to Hand Combat:
She's skilled well with close combat ready to knock out anyone who comes at her. It also helps when puching someone at high flying speeds.
Imaginary energy gun:
She carrys a traditional looking pistol with her but rarely uses it as much. And while it looks ordinary it can actually shoot bullets with traces of imaginary energy in it. It can shoot a total of 15 bullets before having to recharge on energy. It shoots out at a slightly slower pace and can only be used in the hands of an imaginary friend.
Appearance: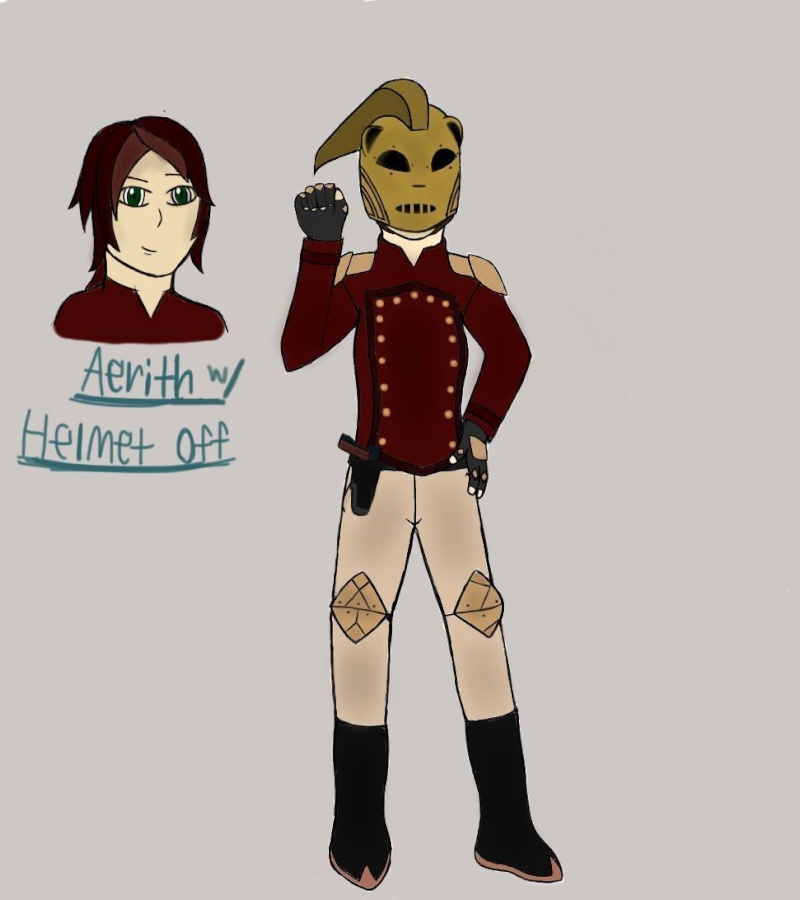 Aerith shares a similar appearance to the Rocketeer himself (http://www.internationalhero.co.uk/r/roketer1.jpg), minus a few changes. The vest she wears is a bit bulkier and is more of a dark red. She wears khaki cargo pants and has on very black aviator boots. The base of her outfit is toped with bronze/gold colored shoulder guards and knee guards, and has on black finger-less gloves with a bit of armor on the top of it. She has a black gun holster located on her belt, where she has access to her gun. Her jetpack is also a dirty like silver, with extended out wings that point a bit upward (so she won't have a scorched backside. Her helmet is the same color as the original, with the front of the fin thick while traveling back to become thiner, and her eyes are more of a oval shape, rather than a circular. Underneath the helmet, she shares an almost striking similar look to Azura (coincidence???) minus looking like a more mature version of her and having a clear face. Her hair is a dark wavy brown that goes over her shoulders by a few inches but is also wrapped in a ponytail, her eyes are a dark green.
Strengths:
* She is a strong fighter when fighting against someone and is great at defending herself in attack.
* Has good upper arm strength when lifting heavy things or pushing something away
* She has a strong will to help others who are in need of it.
Weaknesses:
*While a fast flyer in the air, Aerith cant run as fast on the ground since the stuff she's wearing is a little bulky. So she rather prefers the air to walking on the ground
*She cant handle different things at once and can only do two or three things at a time. For example, in battle she'll mostly focus on the enemies in front of her but wont be so aware of who's gonna appear behind.
*Has a tendency to rush into battle head first at times without proper instrucion.
Personality:
Aerith is one with a good attitude. She's nice to others and offers respect to one's privacy (but may break it if she wants to find out something interesting on someone). She's a bit of a dardevil as she can be seen performing crazy tricks in the air at times. She's against any form of bullying as she hates seeing others put someone down or think of themselves as greater than any other.
History:
Aerith woke up in either one of the bizzarest or worst places to be, a young girls' slumber party. It was around night time and all of the girls were asleep in there sleeping bags, circled around the friend. She looked around at her area, not very sure on what to do, after scaning the area she spotted a door out of the room. Deciding it best not to stay around, she began to tip-toe over the sleeping girls to reach the door. She was about to reach out and open it, before an older woman came in and stopped dead cold when facing Aerith. The two stared at each other in silence before the woman let out a high pitched scream, while calling out "JOSEPH GET UP HERE NOW AND GET YOUR BAT". The friend stumbled backwards, almost landing on a young girl behind her. The girl she almost fell on began to woke up when she looked up to see the helmeted figure near her. She began to yell and wake up the other kids as well. Seeing as though she had overstayed her welcome, she bolted to a window and rammed right through it. The house was a one story place, and the room Aerith was in was on the top floor. She began to plumbit quickly, trying to comprehend everything that was going on now. She was almost about to hit the ground when she suddenly felt something in her hand, and whatever it was she pressed down on it. The next thing she knew she was suddenly changing corse and rocketing through the air. She looked down to see the house she came out off appearing farther and farther away from her. She turned her direction to where she was facing in the air right now learning to adjust herself to this newly learned thing. She flew for a while before landing near a quiet lake. This was her first time with landing so she tried her best to slow down and land on the ground but she miss shot it and instead crashed into the lake. She kept her head above the water as she struggled to get to shore. When she reached land, she stumbled out on the water and passed out on the shore. She tried to catch her breath but felt like she was feeling muffled by something. She felt her head, it felt cold and metalicly hard to her, it wasn't till she realised that there was a strap under her neck. She unclicked it and removed the helmet off her head, finally getting a breath of fresh air. She walked over to the water when it was starting to get still and looked at her reflection. She... looked normal more or less, granted she had a bump or two on her head and that some sort of odd liquid was driping form her head. She looked over herself, trying to comprehed of what she was wearing, she soon found out that she was wearing an odd rocket pack which helped to explain why she flew through the air at that point. Everything seemed to check out for her except for one thing..... why was she in that room, and was she owned by one of the girls or someone? She looked around the area she was in when she heard the sound of a car in the distance. Curriosity stricken, she carried her helmet with her and traveled to where the car was coming form.
Aerith spend the next few years on her own, she never went back to the house she appeared in. Worried that she may get in trouble some how if going back. She did learn how to control using her jetpack and trained in sharpshooting with the gun she had. It wouldn't be long till Fuse invaded the planet. She decided to use what she had to help others and fight off against the invading monsters. And maybe, just maybe, find out more about herself and where she came from.
Do you use nanos: No
Last edited by BladeClaw 446 on Sun Aug 16, 2015 7:49 pm; edited 4 times in total

BladeClaw 446




Posts

: 1663


Join date

: 2015-06-06


Location

: at my magnificent throne



I rather it not be unlimited Ammo, just seems wrong to me.

zerowing21




Posts

: 7612


Join date

: 2013-06-15



zerowing21 wrote:I rather it not be unlimited Ammo, just seems wrong to me.
I swapped it around to a number she can shoot before it has to recharge.

BladeClaw 446




Posts

: 1663


Join date

: 2015-06-06


Location

: at my magnificent throne



I'll give this a tentative approval.

zerowing21




Posts

: 7612


Join date

: 2013-06-15



_________________
Let's make a miracle happen!
Let's struggle as hard as we can!
Let's give it all we've got!
Let's shine together until the very end!
- Takami Chika, Love Live! Sunshine!! season 2 episode 1: "Next Step"
Spoiler:

Team Sonia for Life!


Kaiser




Posts

: 1585


Join date

: 2013-09-07


Location

: The Nowhere Islands



_________________
Finally added a picture so to view her better, and made a few color changes to her outfit.

BladeClaw 446




Posts

: 1663


Join date

: 2015-06-06


Location

: at my magnificent throne




---
Permissions in this forum:
You
cannot
reply to topics in this forum