What's up guys? This is
Kyra_Xyrespace
with another thrilling issue of Tutorial! Today, I'll be showing you how to get your signature to work.
---
So first thing first: Go to your
Profile
and get to your
Signature
page.
Once you're at the page, look over the
Toolbar
. If you leave your cursor over them, they will tell you what each one does.
Top (From Left to Right): Bold, Italic, Underline, Strikethrough, Align Left, Center, Align Right, Justified, -List, Order List, Insert a Line Break, Quote, Code, Spoiler, Hidden, Insert Table
Bottom (From Left to Right): Host an image, Insert Image, Insert/Modify Link, YouTube, DailyMotion video, Flash, Font size, Color, Font, Remove Font, More/Less Buttons, Current date, Current time.
Now, most of you should know how to get a link by now. If not, I will make a separate tutorial for that later on. Now then, once you have your links, paste them into the box. It will look something like this:
And the end product:
Note
Under
Preferences
, be sure to have the Allow Signatures as  "Yes".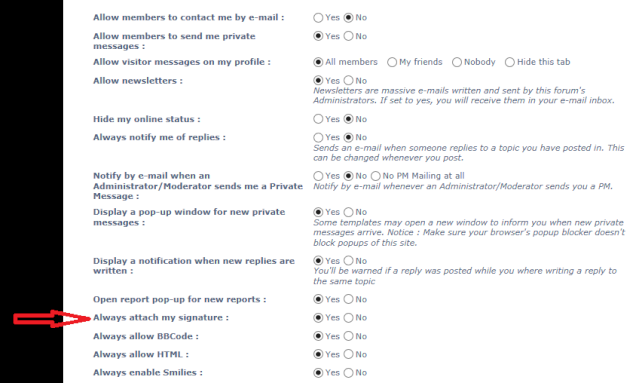 If you still don't see your signature popping up on your older posts, go back, push
Edit
and be sure that it's been checked.

---
Alright folks! That's it for now. If you have more questions, PM me, or get a hold of Zero and ask him to email me the question; I check my emails regularly.
Until next time -
Kyra_Xyrespace
Last edited by Kyra_Xyrespace on Fri Jun 06, 2014 4:02 pm; edited 2 times in total
_________________

zerowing21




Posts

: 7609


Join date

: 2013-06-15



To save the preview time, you can click the "Switch Editor Mode" button which is the last button on the lower right corner. Works like magic.

Sarah




Posts

: 55


Join date

: 2013-09-07




---
Permissions in this forum:
You
cannot
reply to topics in this forum